Aquileia features so many roman vestiges and ruins that it can be rightfully called The Pompei of the North. This fact is confirmed by the National Museum of Archeology. There are three stores displaying collections of historical vestiges. Exhibits like old lamps, plates, carafes, glasses, jeweleries and mineral gems, as well as ambergris of Baltic origin, objects made of bronze and ceramics generate an accurate image of the everyday life in the ancient city of Aquileia, two thousand years ago.
A very special collection refers to the collection of statues, statues which render the old inhabitants of Aquileia, with a very realistic touch and approach. There are halls exhibiting imperial age culture artifacts: statues and bas-reliefs of Iside, Mitra, artifacts of oriental deities inspiring the occultism and mysticism of those times running in parallel with the Christian beliefs. This museum of Aquileia also displays a collection of ancient attack and defensive weaponry. There is a park surrounding the museum where visitors can admire some very beautiful mosaics
The Museum of Paleo Christianity, hosted by an old monastery, completes the National Museum of Archeology. The most interesting attraction is a very large geometrical mosaic which dates back to the 4th century AD. The museum also displays sculptures and other mosaics coming from basilicas and churches around Aquileia and Grado.
Another particularly valuable tourist attraction in Aquileia refers to the Basilica of Aquileia, which stands out by being one of the oldest Christian places of worship in Europe, its ultimate highlight being yielded by the impressively large interior mosaic.
Further tourist attractions in Aquileia are represented by several archeological areas: the remains of a 2nd century fluvial port, to the Roman Forum, the Roman necropolis, the Great Mausoleum and to the Roman Houses.
Finally, Aquileia is worth discovering by tourists spending their vacations in Grado, mostly if one takes into consideration the short 11-kilometer distance between Grado and Aquileia. Thus, trips to Aquileia are always recommendable for people who want to search out the hinterlands of Grado while experiencing the historical facet of the Friuli Venezia Giulia region.
Aquileia Tourist Information Office
For a thorough description of the tourist objectives in Aquileia, as well as for details on how to get to Aquileia, use the following information:
Name:

Aquileia Tourist Information Office

Address:

Via Iulia Augusta, 33051, Aquileia, Udine, Italy

Telephone:

0039 0431 919491

Email:

Website: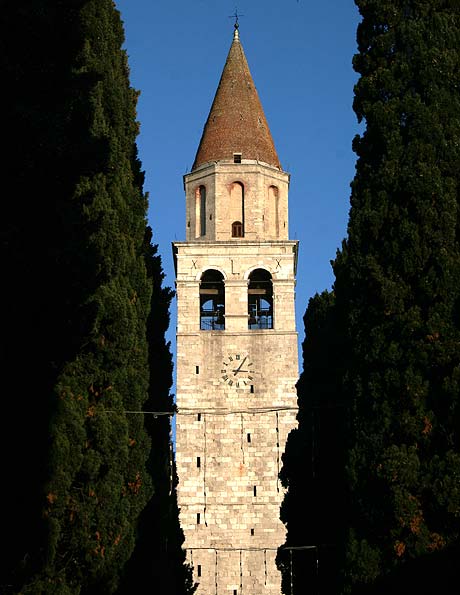 Basilica of Aquileia