The Miramare Castle is one of the most notable attractions nearby the city of Trieste, being located on the very coast of the province. It is a place of considerable historical background, which is precisely what recommends the castle as a must-visit for all tourists curious about exploring Trieste and its surroundings.
Thus, the construction works of the castle, of the adjoining park and of the so-called Castelletto were initiated by order of Ferdinand Maximilian of Hapsburg, in 1856. It was only in 1960 that the construction works at the castle completed.
The design and the construction of the park stood, in fact, as a challenge, given the arid environment (the promontory of Grignano) in which it was to be set. Most of the park was designed in an elegant English style, and in order to actually implement the project, impressive amounts of wholesome soil and countless species of plants were brought in from other Italian regions of even from abroad. The design proper of the park was entrusted to Carl Junker, whereas Josef Laube was in charge with the botanical coordinate of the site. At present, the park fills and area of 22 hectares, and it is home to sundry cultural events.
The Miramare Castle, the neighboring Castelletto, the park, as well as the stables of the castle generate the main stops on the tourist circuit of the complex.
For complete details on the history of the Castle and of its neighboring structures, on admission tickets and opening hours, use the following information:
Name:

Miramare Castle (Museo Storico del Castello di Miramare)

Address:

Parco di Miramare, Viale Miramare, 34151, Trieste, Italy

Telephone:

0039 040 224143040

Fax:

0039 040 224220

Email:

Website:

Opening hours:

daily: 9am to 7pm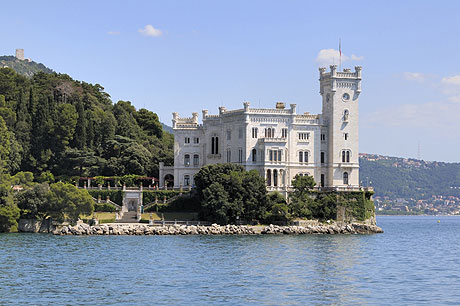 Miramare Castle of Trieste
Parco di Miramare, Viale Miramare, 34151, Trieste, Italy